Acrifix UV Glue
Posted by Pacific West Plastics
Acrifix UV Glue – NEW PRODUCT
This is a very strong bonding UV glue, designed for use with perspex. This great product cures to a clear and bubble-free finish when you expose it to UV light.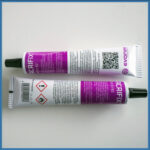 DIRECTIONS:
Firstly, make sure the plastic parts you are using are clean and dry. Check that the parts you are joining fit together easily, without using force.
You then apply the glue, and join the parts while they are still wet.
Finally, you press the parts together firmly.
CURING TIMES:
Fluorescent Lamp: 15-30 minutes
Diffuse Ambient Lighting: 1.5-3 hours
Sunlight: 10-20 minutes
RECOMMENDED USE:
This product is designed for use with acrylic, however it shows good results with varied plastics. Please test before using it with other combinations.
Acrifix UV is available in the following form and size:
100g Tube
Available on eBay, or contact us to make an enquiry or purchase.